Popular DIY website tools: WIX.com
The internet is linking people across the world,meanwhile all types of business-big and small are moving on to the web.
And as everyone is talking about Facebook, Twitter and Youtube, everyone wants a website for themselves. Do-It-Yourself tools like Wix.com may help to make that dream come true.
WIX.com
Wix.com is a very user friendly tool for anyone who wants to create a website, a web developing companion for over 50,102,160 users and 4500 users join everyday. What's interesting is that it's free and has over hundreds of fully customizable HTML5 templates. Wix.com ensures to provide hassle-free, fun to create websites, even without the skill of coding.
Features
As mentioned before Wix provides:
1.     over hundreds of HTML5 templates,
2.     easy to use simple drag and drop website builder,
3.     secure and reliable hosting,
4.     "Wix App Market",
5.     add 'eshop' facility (not free),
6.     mobile compatible interfaces,
7.     Google friendly (basic SEO help)
8.     24/7 accessible support team
9.     Wix's content is in very simple language so it is easy to understand and follow the color coded guide steps.
How to Use
Starting from the home page: Wix provides few sample templates that can be tried, a summary of their basic features and the "WIX of the day" – they pick the most innovative and creative websites and promote them (in other words, if your website is creative Wix helps you to promote it)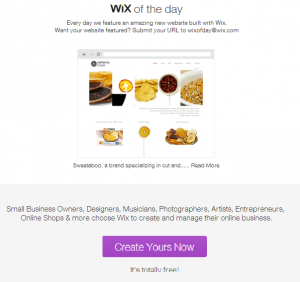 Upon clicking 'create yours now', it directs to a pool of templates, with 12 categories as shown below.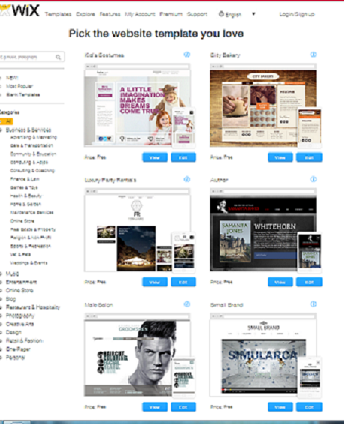 At this stage, you could select the template that mostly define you/ your brand or the layout you love, because at the design phase you can do wonders. Also it is important to note that there are some templates price tagged as e-commerce. If you aim to do online sales through your site, the e-commerce templates are helpful as they have an in built shopping cart (but you need to pay a fee to activate transactions, until then the message below may appear). However the site creation will still be free!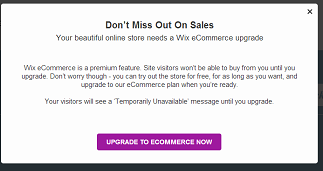 Moving on to the design phase, on the top left corner there are 5 icons, such as
1.      Pages
2.     Design
3.      Add
4.      App Market
5.     Setting
'Pages' shows and helps to navigate the existing pages on the template, but pages can be added, dragged or removed according to your liking. Also it provides the 'hide from menu' feature to use on any page that you're not ready to share with your audience or only to apply when certain conditions are met.
'Design' helps to customize the styles, 'Add' helps to add on many elements, especially the shopping cart, social media buttons, paypal, member logins, and the list continues in the 'Wix App Market'.Below is the graphical view of all the in-built features: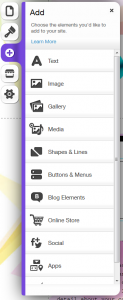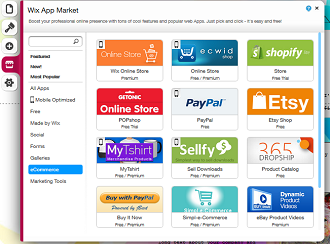 Finally under settings, your creation can be saved as a Wix.com site [http://yourname.wix.com] or for better search engine optimization, you have to buy a package under their premium plans [plans ranging from $4 to $16 per month]. Depending on the package you select, you may get the chance to use Google Analytics to measure your site performance, create mobile adverts, add favicons and to activate a shopping cart feature (possible only at the $16 per month plan).
After all the hard work, when you are happy with your design, you can save and publish the website enabling functions such as 'allow search engines to find my site' and "enable an optimized mobile view of my site', and you are live on the internet. Do not forget to share your page on social media and spread the good news.
Things to note
1. The footer
Many tend to forget to update the footer information with yours and your organization's details
2. All content
Its not just the footer, ensure that the content does not violate any regulations and adopt all guidelines of the Can-spam act (2013) to ensure your sites and your audience's safety
3. Plan before you start
Wix.com may be easy to use, but explore it and plan the add-ons, content, structure and designs before starting (simply how you want the site to look like) to avoid been carried away.
You may come across some difficulties when using this tool, if so, we would be glad to hear from you! Let us know about your experience with the #MYDIYWEBSITE or comment below.
Hope you have great time designing!
Created: June 27th, 2014