Facts about web development by BQu IT team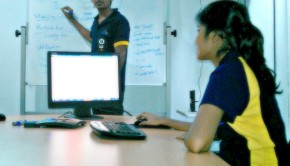 With the development of  the Internet, IT and all IT professionals are key to the success of many firms today.
When talking about "Web development", the main thing that comes to mind is coding, However, BQu Services' Head of IT begged to differ, "IT is not all about coding, coding is only one aspect of IT."
If so, what is web development?
In web development, there are many areas as shown below, and these are some of areas in which developers tend to be specialized.
1.     Requirement analysis
2.     Design
3.     Development [where coding takes place]
4.     Database management
5.     Data entry
6.     Networking
7.     Testing and QA
8.     Technical support
9.     Security expert
For each area, the tools, processes and techniques used will be different, for example: for Coding, software tools such as NotePad++ or Dreamweaver is used, and for designing Photoshop or Invision is used.
Here are 3 interesting elements in coding
1.     Language: It can be defined as specially designed set of spelling and grammar written in a way the computer understand, and different languages have different combination of words and punctuation that are meaningful.  Again, the use of the language differs from developer to developer depending on what they feel most comfortable with, however C#, PHP, SQL, HTML  and JavaScript are found to be most popular among developers
2.     Framework: In simple terms, a framework is a multi layered guide to help developers create an structure to be useful for coding. Some examples include Cascading Style Sheets (CSS), ZEND, jQuery, or Codeigniter.
3.     Tools: Tools are software that are used to develop, fix errors (debug), maintain, or support programs and applications such as Joomla, eclipse, mySQL Navicat, PHP report maker, Photoshop etc.
Why do developers like web development?
When the question was posed to the BQu IT team, they pointed out three main things:
1. Passion towards web development
Hundred percent of the BQu IT team said they love what they are doing and all the technologies and tools that they work with while one specially quoted "it is exciting when I finish a complex development".
2.  Flexibility
They love the fact that IT firms and professionals  do not have rigid working hours but focus energy on creativity and innovation. An interesting quote "it's easy to deal with machines than people"- BQu IT professional
3.  Exposure to new technologies
Every developer loves to explore new technologies and that was the main reason why they selected this career path. Everyone is knowledgeable because of their desire to learn about new technology and they describe exploring new technologies as "fun"
Despite the fun part, there is a boring side to it too like every coin has two side.
The 2 main negatives are:
1.     Long working hours
Developers are responsible to deliver websites and web products upon request, therefore they need to be dedicated to work long hours to complete a project. Meanwhile, some developers describe error fixing, researching, and repetitive tasks as "boring"
2. Spending too much time near computers
The development of websites and tools lies within computers and internet, so all web developers have to work in front of screens and as scientists and doctors say, it is not healthy to be seated in one place and especially spend too much time in front of screens.
Advice from BQu's IT Head
"I believe 'empathy' is the most important quality for being a software engineer as usability is the key factor which differentiates a good system and a great system. A developer should have the courage to change and adopt their mindset to add value to the end user. If you are an individual with the aforementioned mind-set, driven with passion towards technology, and if you have good analytical and problem solving skills then IT is just the right career for you!"
                                                                                                   – Bhagya Weerathunga, Head of BQu IT team
In conclusion, IT and web development is a field that will enrich anyone who is passionate about it. However IT professionals should also be open to what people have to say, and accept challenges.
Created: July 10th 2014