How to facilitate regular attendance for part-time students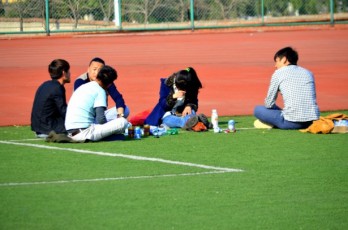 Here's an interesting question. Firstly, do students miss anything by being part-time students and therefore is regular attendance important for them?
They have to  pay the full fees that a full time student would pay over the duration of the course, although e.g. a three year course would take five years to complete in their case.  Statutory rules govern minimum attendance requirements in keeping with the regulations of the particular University.
Here are some of the minus points of being a part-time student:
Reading assignments alone do not do justice to being backed in a classroom by audio presentations. Regular students are presented with multimedia classroom presentations that supplement their reading assignments both auditory and visually and this gives them access to a wider range of learning styles than  part-time students gain through textbooks and online tutorials,
Teachers are apt to widen concepts displayed in textbooks, especially those of importance and offer up to date information that textbooks may not be updated on, adding on their own perspectives that would help students gain a deeper understanding of the topic,
Q&A sessions consolidate these perspectives. Regular students get to use their critical thinking skills by being given opportunities to analyze course material with wider topics, create better interest, variation and have better subject retention,
Students develop other skills apart from academic, e.g. taking notes, prioritizing the quality of the notes, organizing, presentation skills, and the discipline of timely attendance,
Instant feedback from students helps teachers to improve the quality of learning material,
Part-time students miss the opportunities to interact with other students on a regular basis which leads to improved intellectual and inter-communicative skills, wider understanding and acceptance of various cultures. They are also unable able to form useful interactions with faculty member as they would have done under regular attendance,
In-class discussion material may surface in tests so obviously regular attendance improves student grades,
Student surveys have indicated that there is a difference in the quality of online learning material, web postings vs. in-class interactive learning though it is a popular misconception amongst some students that borrowed notes and referring to the websites are good enough,
Part-time students have the tough task of juggling classes, part time jobs, personal and social commitments which could be extremely stressful. Part-time students are so by necessity, thus they would need to put in much more effort and time to make for the above drawbacks.
On the other hand, Universities face tangible and intangible issues when student attendance is lower and these need not necessarily be in terms of cost alone. Universities need students. They need student feedback which is critical to improve the quality and content of learning material.   But, universities cannot make attendance mandatory, rather they could make regular attendance more attractive by policies that are clearly articulated to students and are reasonably attainable. As long as students realize the worth and value of regular attendance for their end grades and as long as the university adopts measures to make classroom attendance meaningful but also with an element ofsocial activity and fun, the chances of having voluntary good attendance even at part time student level are higher than enforced attendance policies.
Since absenteeism and irregular attendance are a cost to an organization, most Universities have opted for Student Attendance Management programs in order to pinpoint attendance patterns of students, including part-time students and how they fare in the progress of their studies.   A good attendance management has inbuilt rules that are consistent with collective agreement, are reasonable and are clearly communicable to students whilst in implementation.  The system can be tailored to identify culpable and innocent absenteeism. Students who exhibit less than satisfactory attendance are easily identified allowing Universities adopting measures to secure better attendance and better academic support for them. It also Since Universities have a wide complement of students from various cultures a useful feature is that they ensure compliance with Tier 4 license obligations in an efficient and cost effective manner.
For Universities already having an attendance management system its time to check out the newer, more cost effective features of an updated Student Attendance Management program which are a win-win situation for the University, since they are not costly and could easily be integrated to the existing systems without interference.
Created : December 15th, 2015