10 of the weirdest apps out there
The phrase "there is an app for that" has become a very common adage in the recent past, describing quite closely the reality we live in.
In fact, as anyone with a smartphone would know, there is a myriad of apps out there.Most of these are certainly making our lives much easier, making it easy for us to cope with our busy schedules. On the other hand, there are some apps that are downright weird, useless, and frankly rather disturbing! We have summarised the craziness of the apps world in the top 10 weirdest apps.
1. iNap@Work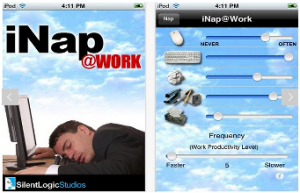 This one is for all the lazy workers out there who enjoy the occasional nap at work. This app will make sounds that one would make while working, such as typing, clicking, and as claimed by the app description, the newest sound added by popular demand is the scissor cutting sound. You can also decide how frequently these sounds will be played. To top it all up, the app also has an alarm to help you manage those power naps better!
2. Pointless Game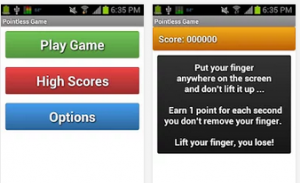 The name of the game says it all, and the description also reads "WARNING: This game is pointless". Well, at least we are not being misguided! The way this game works is pretty simple: place the tip of your fingers on the phone screen and keep them there as long as you can. Yes, that's about it!
3. IBeer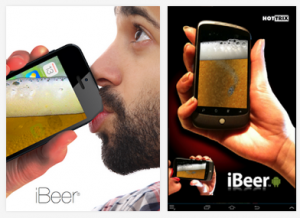 This one is for all you drinkers out there, or should we say virtual drinkers? With this app, you can drink all the free beer you can, the beer being obviously fake. All you have to do is tilt the phone the way you would do with a glass, and you will appear to be gulping down that cold foamy beer. If the realistic liquid look complete with bubbles and foam is not enough to convince you, the app will also take care of the burping part for you. What more could one ask for?
4. Paint for Cats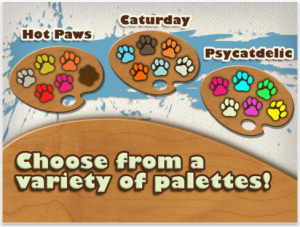 With this app you can finally set your cat's artistic side free! And your cat doesn't have to be super smart either to create beautiful works of art. All it has to do is chase a rainbow striped mouse around the screen of your tab, and wherever the paw touches the screen, splashes of color will be created. Who knows, maybe you'll find out that your Kitty is the new Picasso!
5. Blower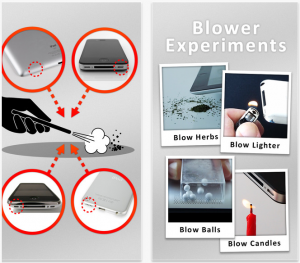 The days of struggle of blowing out candles are finally behind us with this app. According to the app description, it works by using secret hardware features on the iOS devices. It blows out air out of the device's speaker so that you can easily (as mentioned in the description) blow out candles, lighter flames, and blow herbs (!?!) away. Although the real struggle we have is in trying to understand why anybody would be unable to muster up enough air to blow out a candle…
6. Melon Meter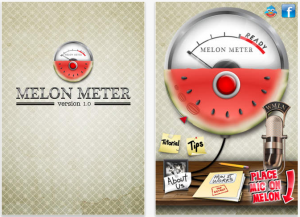 Don't you really hate it when you buy a melon and come home looking forward to eating it only to find out that it's overripe or under-ripe? Melon Meter can help you avoid that by helping you to choose just the right melon. All you have to do is thump on the melon keeping the phone close enough for it to pick up the sound. The app will then analyze this and determine if you are making a good choice or not. Note: Melon Meter cannot determine the sweetness of the melon as this is based on different factors.
7. Annoy-a-Teen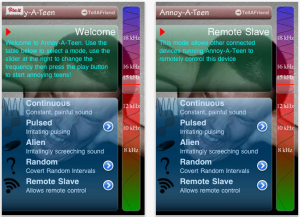 Want to drive your teenage kid crazy? Well, there is an app for that! This app allows users to play high-frequency sounds that only teenagers can hear. It's similar to a dog whistle, only for teenagers! In the app page there are several comments claiming it really works, and if you have a teenage kid, there is only one way to find out!
8. Ghost Radar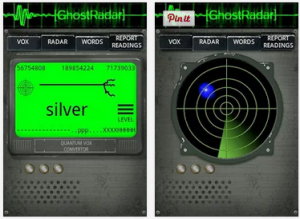 This app has been designed to detect paranormal activities that are taking place around you. By using various device sensors measuring sounds and vibrations, the app keeps you posted on any ghost activity near you and also lets you know about any words it picks up. If you are into making contacts with the other side, this app may be just the one for you!
9. Watching Cute Girl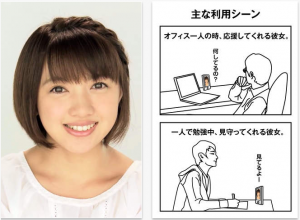 We now cross over to the creepy side of the list, starting off with this app that displays a virtual girl who stares at you through your phone screen. That is basically all it does, just a girl who watches you throughout, oh we almost forgot, you have to pay $4 for it.
10. Zit Picker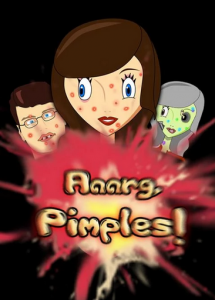 This app is most definitely not for the faint of stomach! With this app, you can pick off zits from a girl's face (why anyone would want to do that is beyond us!) by popping, pinching or picking them. As an added feature, the app allows you to upload your own pictures and pop your own pimples! However, the app is responsible enough to advise users not to pop real zits to avoid scars all over your face.
So there you have it, the ten weirdest apps in the market. Have you come across any weird apps? We would love to hear about it in the comments below!
Created: January 23rd, 2015