Nepal Earthquake: The good and the ugly of social media
On Saturday 25th April, tragedy struck Nepal in the form of a 7.8 magnitude earthquake, causing massive destruction and affecting over 8 million people all over the country, as well as in the neighbouring India and Tibet.
Shortly after the earthquake, social media platforms exploded with hoards of messages, statuses and tweets about the tragedy. Although the positive side of social media and its usefulness is highlighted during such tragedies with people all over the world coming together in prayers and support for those affected, some fail to recognise the difference between smart marketing and flat out distasteful advertising. Below we portray the two sides of social media that emerged from this tragedy.
 The good
Let's face it: we all criticise social media from time to time, claiming it's replacing actual social interaction, reducing productivity and so on. While these claims might be true to some extent, the true value and power of social media can be observed during a natural disaster like this.
The giant social media platform Facebook has introduced the 'Facebook Safety Check' application which allows users who are in the affected area to mark themselves as safe to let loved ones know about their status. The app also lets you mark other people as safe and sends notifications to give updates on the 'safe' list. The 'Safety Check' covers an area of  500 km from the epicenter including parts of India, Bhutan, and Bangladesh. The safety check feature was launched in 2014 and was initially inspired by the earthquake and tsunami that hit Japan in 2011.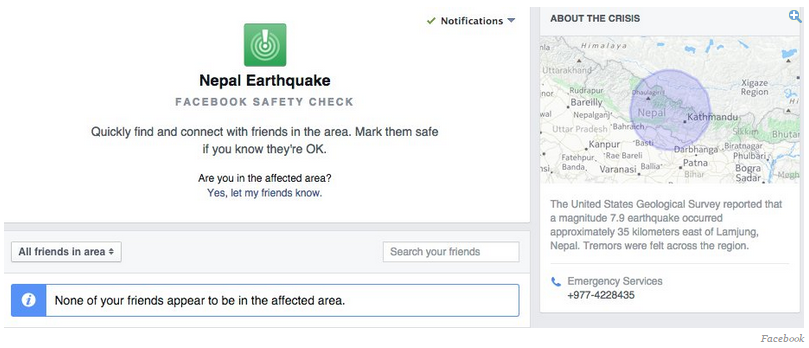 Several Facebook pages, such as 'Nepal Earthquake 2015.', have also been created to aid the sharing of information about the situation in Nepal, helping Nepalese people currently residing abroad to share updates and stay informed. The page also shares advice on how to handle a crisis and acts as a hub for people to ask for and offer help.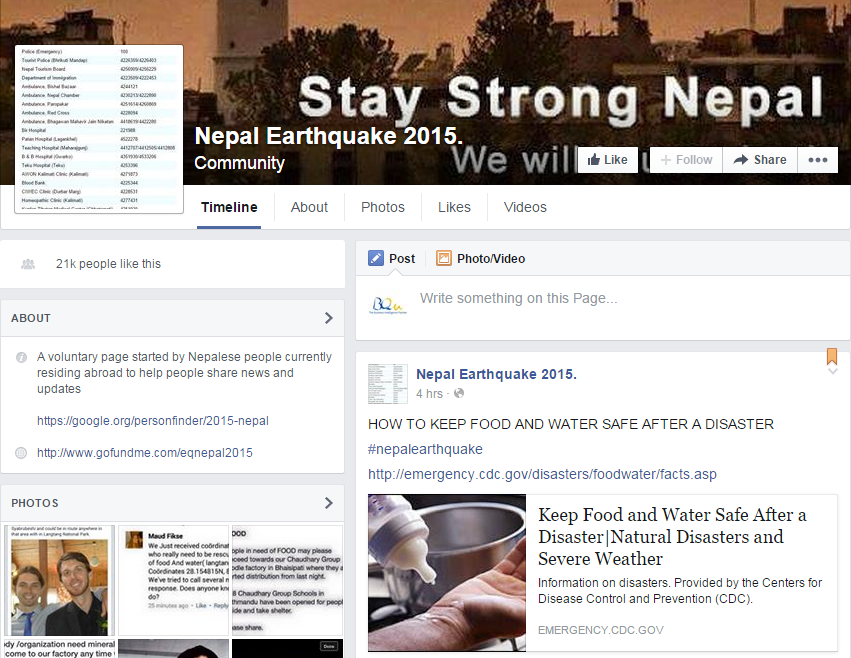 Google also contributed by deploying 'Google Person Finder', a crowdsourced database for missing people which helps individuals locate loved ones filed as 'missing' after the earthquake. The app allows people to file a request asking for information about a specific person or upload information about someone who has been found. As of today, about 6,800 records have been uploaded to the 'Person Finder".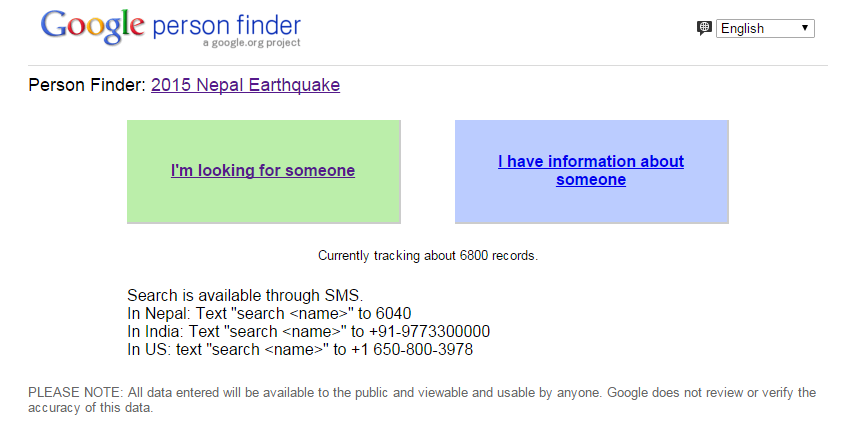 Twitter was also put to good use by Manjushree Thapa, a Nepali writer who created a Nepal Twitter list that gives users on-the-ground reports from all over the country. Twitter's speed has certainly made it one of the most looked at platforms for live updates on the current situation.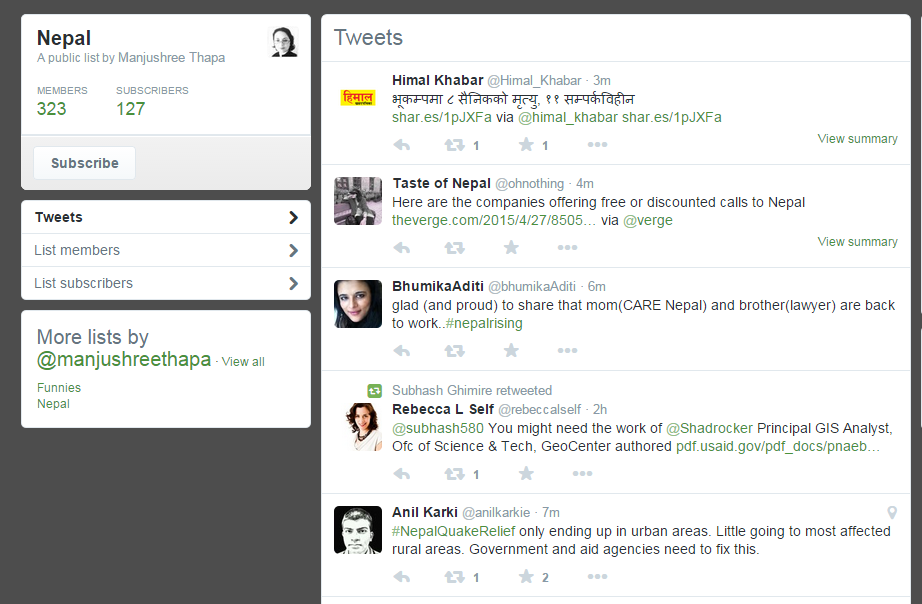 The Ugly
With all social media platforms erupting with efforts to help all those affected, a few saw this disaster as a (distasteful) chance to market their products. Although these blunders were quickly revoked by the respective brands, they left many outraged.
Shortly after the earthquake hit, the online shopping website LensKart sent out an SMS to advertise sunglasses offered at special rates. Nothing wrong so far, except that the tagline was "Shake it off like this Earthquake". After an obvious negative reaction from many, the brand apologised for the insensitive message.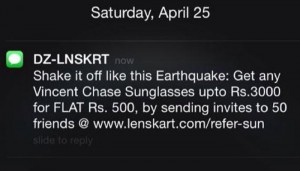 A similar SMS was sent out by American Swan,  an online clothing website, claiming to offer "Earth shattering offers".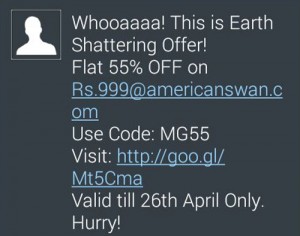 Troika Consulting also slipped up by publishing a recruitment ad which claimed that they would consider recruiting anyone who updated their status while evacuating a building. This pun was not well received by many, and the agency took the advert down.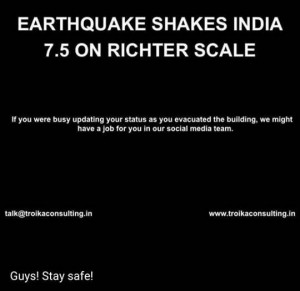 Scoop Whoop published an article shortly after the earthquake titled "16 thoughts that went through everyone's mind when the earthquake happened". The questionable article featured gifs that portrayed the situation in quite a comical way. The article was later pulled, and the Editor in Chief published an apology note.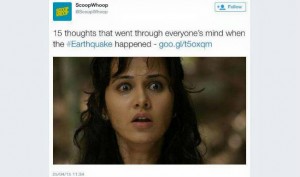 While this article merely discusses the uses of social media in a crisis situation, what Nepal truly needs at the moment is all the help and support they can get. Please follow this link and donate in any way you can. Our prayers are with all those affected.
Created: April 29th, 2015