The role of infographics in the online marketing mix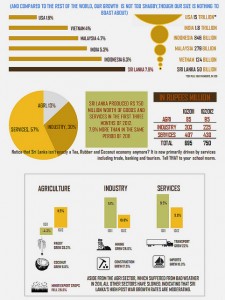 Infographics are becoming increasingly popular methods of displaying information,so much so that certain sources refer to them as "Revolutionary Marketing Tools".
Their popularity stems mainly from the attractive designs, graphics, colours and the unique ways in which information can be presented through them and because of the simple fact that they have the potential to reach a great audience!
It has been found out that in just over 2 years, infographic search volumes have increased by over 800% – this is sufficient proof for the increasing popularity of infographics. It has also found to increase the traffic that publisher sites receive, 12% more than those who don't use infographics.
Infographics can be explained as a data visualization technique used to communicate information in a concise, attractive and easy-to-understand manner. They have been found useful to change perspectives of how people absorb or grasp a story/situation. Infographics create a new way of seeing the world of data, and they help communicate complex ideas in a clear and simple way.
On Social Media, infographic posts seem to trump traditional posts significantly. It has been found that Twitter tweets containing infographics are retweeted 12 times more than tweets containing traditional posts.
Infographics are unique in that are comprehensible by any person, irrespective of age, education levels, professional experience levels etc. A research has found out that 87% of business people would rather read an infographic over textual material.
They can be used by school children, business people or by sophisticated parliamentarians! Their versatility allows them to be used to display information as simple as a "Parts of a tree" chart for school children or a "Population statistics" chart for to be used by council members! However, it has been found out that the majority (12.7%) of infographics in the world have been drawn up for business purposes.
The key stages of developing an infographic:
Idea and research:
§  First, decide what message you want to get through to your audience. When this is at the top of your mind, it is very easy to structure the messages, data, statistics and information around it.
§  It is important that you use accurate data, and the arguments you make are logical and in line with the data available to you. Make sure you get another opinion or two here, because proof reading is important to sometimes observe contradictory, confusing statements.
Story and Design:
§  When designing the infographic, care needs to be taken to pick out the correct dimension, colours, backgrounds etc. There should be consistency in the imagery as well as in the messages.
§  The images, graphics, wording and even the colours you use must be in line with the key message you want to send through, the positioning you want to build through it and most importantly, be appropriate for your target market. For example, the imagery used in an infographic about "Population statistics" mentioned above needs to be different from the "Parts of a tree" infographic, simple because they target very different audiences.
Distribution and Promotion:
§  When writing up infographics for business purposes, it is useful to embed links, so that bloggers/readers have a way of finding out more information, and your website's number of visits too increases, improving your site's SEO ranking.
§  Make sure you promote your infographic – through Social Media, submitting to blogs, encouraging people to share it or you can go big and send a news release!
In summary, statistics suggests that the average reader can only remember 20% of what he reads, and of the information transmitted to the brain 90% is visual. In terms of distribution too, it is seen that 200% more images are liked on Facebook over text posts, and result in a 12% average increase in traffic. Hence it is clear that Infographics are rapidly becoming "essentials" in the online marketing mix!
See the recent infographic done by BQu Services on the Domestic Travel Holiday Planning Survey March 2013
Created : May 16th 2013