Facebook pages vs. having your own website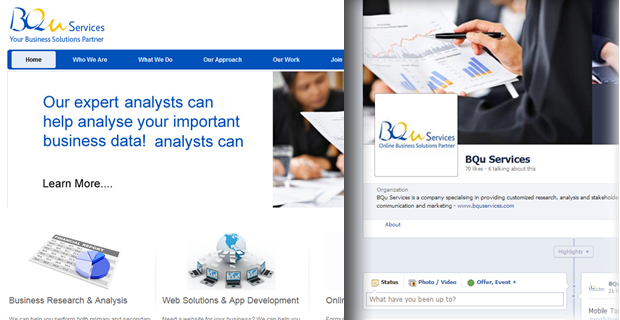 Sri Lanka is now seeing many new companies emerge on Facebook, be it in fashion, electronics or food. It is also worth noting that some of these companies do not have their own website.
Instead they are opting for a Facebook Page which now seems to be the cost effective option for all these providers.
Is it alright to have only a Facebook page and not a website for your business? There are benefits of using either of the approaches. Lets look at the pros and cons of both.
Pros and cons of having your own website
Imagine your business has a website. You will be entitled to some benefits such as:
Control of content, structure, design and maintenance
You can have your own name for the domain, or at least a variation
Ability to create email addresses with domain names (eg:

This email address is being protected from spambots. You need JavaScript enabled to view it.

) rather than general email domains (eg:

This email address is being protected from spambots. You need JavaScript enabled to view it.

)
A good window to convey your branding – a website allows logos, colours, themes to be portrayed well
Gives the opportunity to do market research free/at very low cost through web analytics
Accessible by almost anyone anywhere in the world, at any time
Ability to add any amount of section detailing any number of functionalities you wish
You can introduce content in line with your brand
Ability to link and monitor through free web analytics tools
The cons of having your own website;
You need the ability to be technically sound to set it up
You need to register the domain name, and host it with a hosting provider which can take up time and money
Creation and maintenance can be costly, specially if done with an agency
Updating requires technical skills even if the website is created on a CMS (Content Management System)
Needs to have the SEO (Search Engine Optimisation) in place to reap full benefits
Pros and cons of having a Facebook Page
Companies who have a Facebook Pages receive many benefits;
Less cost in building brand presence online
Allows quick updates  on your products/services/news, in real time
A much better medium than a website for two-way communication
Creation and updating is much more affordable than for a website
Access to customers through referrals and advertising platform on Facebook
Ability to display interactive components through Facebook offers, and other add-ons
However, having a Facebook page may present you with certain limitations as well
Your brand name might already been taken
Higher threat to privacy, risk of spam and malware is higher in a FB page than a web page
Having to constantly update your page, so that your posts won't go unnoticed or showered by other posts
The need for a Facebook account to create a company page
Interactions with a Facebook page can only be done by other Facebook users
What ever you chose to do it is always important to keep in mind that Facebook is a Third part provider and even if you have an inhouse developer working on the Page, you will still have some of the following issues;
Losing control of your page which can be at any time taken over by Facebook if violating any of their terms
You cannot predict changes to Facebook pages as they update layouts and components
A Facebook page can invite privacy issues such as hackers, and having public walls may invite undesirable spamming of your page
Limits the amount of content you can share
Potential clients may get confused over not having enough information about the company
Making online payments would need integration with third party apps which you need technical support for
 Created: July 19th, 2013