Website migration steps for SEO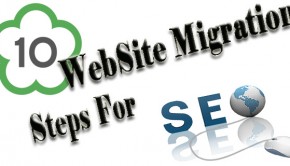 What is a Website Migration?
This is when you or your client decide to change their website domain name to a sub-domain, a completely new domain, a new location, or introduce new pages that are completely different from the previous site pages.
How can a website migration effect SEO?
Diligent planning, communication and on-going analysis are very important fundamentals for success of site migrations. Content migrations and URL changes are fundamental aspects of search engine optimisation campaigns. The simplest form of moving a site maybe migrating a site to another domain.
A site migration is a "best practice" that may be conducted by SEO practitioners simply to avoid common pitfalls in order to make sure traffic loss will be kept to a minimum. Most website owners want to know in advance what the impact would be in terms of site performance, often asking for information like potential traffic loss, or even revenue loss.
When migrating to another site the following should be considered:
§  Which pages drive traffic?
§  Which pages drive conversions?
§  Which pages have external links?
§  Which pages drive the greatest level of engagement?
The main goals in creating an SEO migration strategy is to:
§  Maintain and/or improve Search Rankings
§  Maintain and/or improve Search Traffic
§  Maintain and/or improve Link Connectivity
§  Improve user experience
Some important 10 steps for site migration
1.     Create a Sitemap
Initially, a site map of the website needs to be created. This is a structured document with all the pages of the website. It will help us to understand what is in our site and where the navigation tabs and other tabs lead to.  Sitemaps may also be used to talk about our site with new developers.
2.     Review Analytics and identify key pages
You can use either Google Webmaster tool  or Google Analytics for this step. These tools help you to review traffic sources and patterns. The pages that are being crawled and indexed can be identified, along with ways to improve the site's marketing and search engine effectiveness.
3.     Create or Migrate Content
The following procedure can be followed:
§  Content inventory
§  Finalize content to migrate
§  Organize content
§  Migrate content
§  Populate home page
§  Launch site!
4.     Populate and Optimize
To populate and optimize the website, you can add images and links. Start building out the new website by creating the pages,  inserting  graphics, insert new content, linking internal pages to each other and formatting the content if need.
We can optimize the pages by using necessary unique, keyword-rich page titles, adding good page descriptions, add hyperlinks to other pages. and keep a common, unique format for the website. Headlines, sub-headlines, paragraph spacing, bold phrases, etc. need to be as per standards and consistent.
5.     Review and Test
This is important to identify problems before the website is published. There may be unnecessary buttons, unwanted links, wrong links with call-to-action buttons etc. and different browsers may produce different versions of the same page. Review & testing will help produce a high quality website with much less errors.
6.     Point the old URLs to the new URLs
The old and new URL chart may be used to identify the different URLs in the old and new websites.
7.     Launch your website
In this step we can activate pour site by pointing DNS to the server that contains our new Website's files.
8.     Activate 301 Redirects and Test Links
The "301 Permanent Redirect" is the most efficient and search engine friendly method for redirecting website pages. You can use it in several situations. One of them is to redirect an old website page/pages to a new address.  Finally, all the links needed to be re-checked to ensure they are working properly.
9.     Submit Sitemaps to Search Engines
A sitemap is a document or web page that shows the full structure of our website, and contains a list of all web pages within it. You could either wait for the search engines to spider the site and find the XML sitemap via the file called, robots.txt file, or,  you could manually submit our XML sitemap to the major search engines.
10.   Check Google Webmasters Tools
Google Webmaster Tools (GWT) is  web interface provided by Google, free of charge. You can simply add and verify the site and to see information right away.
In conclusion, it is worth mentioning that a website migration can also be different when using different CMS tools, so it's often important to discuss the outcomes with your experienced developers.
Created: August 22nd, 2013