Measuring your performance online with Google Analytics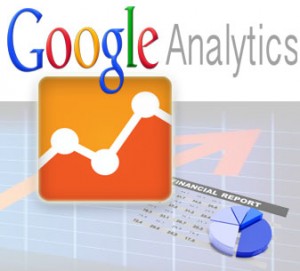 Google analytics is a free service that provides monitoring and analysis of traffic on your website. This tool can be used for monitoring website performance, in particular for search engine optimization (SEO).
Google Analytics is implemented with "page tags". So you have to use a tracking code in each of your web site pages. Google Analytics tracking codes —  also know as custom campaigns or UTM codes — are custom tracking parameters that communicate to Google Analytics  information about how your referral traffic is interacting with your calls to action. (Read more about Google Analytics technology)
Some of the most common questions like "what were the keywords my site is coming up for?" can be answered using Google Analytics.
What can be measured with Google Analytics?
In general the tracking code is built to track the visitor information to your website, how they arrived and ultimately how long they stayed on, what they did and where they left off.  Google analytics has recently introduced some advanced features like;
§  Segmenting and custom audience tracking
§  Tracking visitors coming from offline mediums
§  Mobile application tracking
There are 5 main in-built categories in Analytics namely;
§  Real-Time
§  Audience
§  Traffic Sources
§  Content
§  Conversions
Real time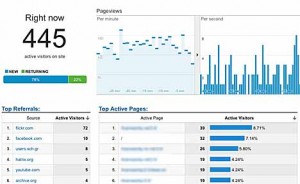 This is where you can see real-time information on who is engaged with your website. You can get information about how many people are in your website right now, where your traffic is coming from, and which pages they are viewing right now. There are two additional beta versions called Events and Conversions. You can get an idea about real time user event activities and information on the goals you set.
Google Analyticscan give you using real time reports
§  Monitoring when and if new and changed content on your site is being viewed
§  Monitor if a one-day promotion is driving traffic to your site, and can see which pages these visitors are viewing
§  Verifying that the tracking code is working on your site
Audience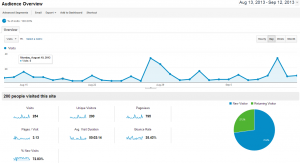 Through this section you can get information about how many people visited your page, which pages are most visited,  what are the devices they use to access the site etc. You can view data for hour, day, week or for months. Some of the key indicators we can find out include;
§  Visits
§  Unique Visitors
§  Page views
§  Pages per Visit
§  Average Visit Duration
§  Bounce Rate
§  New Visitors
§  Language
§  Location
§  Behavior
§  Browser
§  Operating System
§  Service Provider
§  Mobile Operating System
§  Mobile Service provider
§  Mobile Screen Resolution etc.
Traffic Sources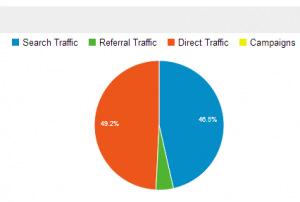 Traffic sources is a report that provides an overview of the different kinds of sources that send traffic to your Web site. Using this report you can see how well campaigns are performing and how better to invest in site content, advertising, or other forms of engagement. We can categorize website traffic in to four categories: Direct Traffic, Referring URLs, Search Engines, Other (mainly indicating campaigns).
Content
The Content section helps you to improve the content on your site . You can find out the most visited pages and sections on your website, thereby you can improve the quality of these pages to get more clicks. You can further identify the least visited pages and evaluate how to improve them.
Conversions
In general terms, a conversion can be a new acquired customer, a new sale, a download of content, and this can be defined by you.
A site's conversion rate is defined as the number of successful transactions divided by the number of total unique visitors. You can set up goals (for example a specific purchase or registration) for your website and set up "goal tracking" to detect the number of conversions made.
Is Google Analytics tool the only tool for website performance monitoring?
The answer is no. There are many tools that can help you obtain the same insights, but Google Analytics is free. Large websites however might find they cannot continue on the free accounts. Some companies also find other tools that can track better in terms of individual user behaviour. Google Analytics stores the information on their servers, in case the account you use for creation is lost.
Need help in website performance monitoring? Contact BQu Services for support on This email address is being protected from spambots. You need JavaScript enabled to view it.
Created: September 17th, 2013