Restaurants: Is there a market in Sri Lanka?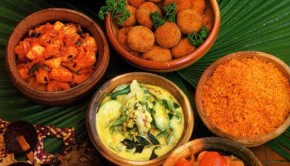 Have you noticed lately that everywhere you turn there is a new "Coffee Shop" or franchised network of restaurants? So does Sri Lanka really have a market potential for restaurants?
For anyone wanting to start their own restaurant or coffee shop here are some insights into this market in Sri Lanka. Let's see what a simple desk research can tell us.
Number of restaurants in Sri Lanka
The Sri Lanka Department of Census & Statistics mentioned that the Hotels and Restaurants sector recorded a 21.1% growth in Q2 of 2013. There is no clear growth value stated for restaurants alone.
According to Tripadvisor there are over 225 listed "restaurants" in Colombo alone, with over 824 island wide. Lonely Planet reports around 50 restaurants. Yamu.lk, a review website in Sri Lanka has more than 300 listed as "Food" places! Another website LankaRestaurantGuide.lk has over 400 restaurants.
Number of restaurants in Sri Lanka, by location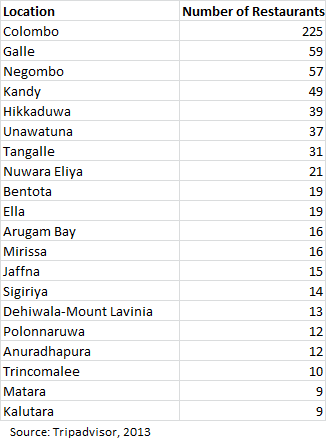 When looking at Colombo the city with the highest number of restaurants; over 16% of restaurants offer Asian food with 11% following with Chinese. Sri Lankan food fell into the "other" criteria along with Japanese, Italian and over 5 other more variants.
Only 6% follow a "Cafe" concept, furthermore 20% of the restaurants offer reservations mainly attributing to being part of Hotel chains, where almost 18% fell into "After-hours" category.

The Cost charged by Restaurants in Sri Lanka
The majority of the providers fell into the price range of Rs. Rs. 630 – 1,300 per meal per meal, while the next highest number fell into the price range of Rs. 1,300 – 5,500 per meal.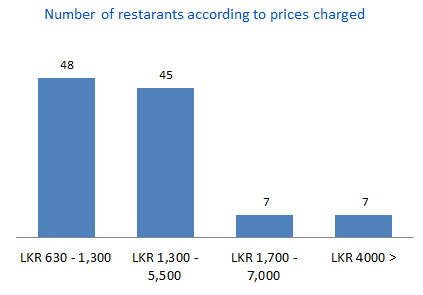 The costs for eating out detailed for visitors coming into Sri Lanka is mentioned as Rs. 600 minimum for rice and curry, and between Rs. 1,500 or Rs. 3,000 minimum for eating out depending on the restaurant rating.
If you start focusing on the operational side of a restaurant – What about the number of potential restaurant patrons, the demand for eating out, and the demand for particular types of food? You might also want to know how often food lovers change their trends in eating out and much more primary information.
In Aug 2013 there has been a 26% increase in tourists with more than 100,000 visitors arriving in August (compared to August 2012); this shows a potential market increase in hotel/restaurant patrons.
The results look positive, but if you have a big investment in mind for a restaurant, it would be recommended to conduct more primary research into the demand and how this demand will change in the coming years before you make a clear decision. The only way to validate any information is to conduct primary research into the market and get more updated insights through focus groups and consumer surveys.
Interested in researching about a particular market?
Contact BQu Services for at  This email address is being protected from spambots. You need JavaScript enabled to view it. for services in business research and market research.
Created: September 29th, 2013