How Sri Lankan companies use Instagram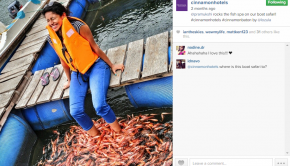 Instagram is an extremely popular social media network that allows users to upload photos and videos and publish them adding various filters and effects to the pictures.
Instagram is an application that is freely downloadable from the App Store, Windows Phone Store and Google Play Store. Instagram accounts can also be accessed and viewed from Desktops. However, you can only upload photos via Mobile or Tablet devices.
Instagram is an app that quickly rose to popularity passing applications such as Pinterest and Flickr. It's popularity mainly stems from the use of hashtags. A hashtag is a phrase preceded by a hash symbol (#) and represents the content in the image. Users can search hashtags and see other users that have used similar hashtags, thereby enabling users to build a conversation.
For these reasons, Instagram in quite popular in Sri Lanka and the number is only growing with the introduction of more smartphones, cheaper data packages and the growth in the online community. Instagram is also used by several businesses in Sri Lanka, however mostly in the Hospitality, Travel and Tourism sector.
Here are some examples for companies that successfully use Instagram in Sri Lanka.
I am Sri Lanka (instagram.com/iamsrilanka)
IamSriLanka is a licensed travel operator that is very active on social media. They have over 10,000 followers on Instagram and close to a 1,000 posts. There are many enquiries being made via comments against their posts, and there are many followers even commenting in different languages.
Some special features of their Instagram posts are:
§  Geo-tagging – tagging a location. Doing so is a great way for tourists to identify and remember the locations. It is a great way to build location awareness
§  Inspirational and travel related quotes and questions that invite and entice users to engage
§  Publishing pictures of some of the tourists that travel with them, with their permission of course. This is a great way to build trust on a tour operator brand
§  Video uploads – Their videos are very creative edits of their journeys, pathway into hotels and other attractions, some even including depictions of their travel using world maps and animation software
Coco Veranda (http://instagram.com/cocoveranda)
Coco Veranda is a popular coffee house in Colombo. Their style of posting is very simple and creative and they also get highly positive comments on their quality of images and variety in their menu.
They have over 2500 followers and nearly 1000 posts. Their posts are mainly composed of
§  Their products – high quality images of their food and beverages published with hashtags and creative messages
§  Quotes – Inspirational quotes, questions etc.
§  Their menus, promotions etc.
§  Images of customers, events/birthdays celebrated at Coco and special sponsored events (eg: World Conference for Youth 2014)
§  Images of their staff, kitchen and how the food is prepared
Pizza Hut Sri Lanka (instagram.com/pizzahutsl)
Pizza Hut Sri Lanka's Instagram account has 311 followers. Instagram is ideal for the world-famous Pizza chain in Sri Lanka since they carry out many contests and competitions frequently. Heres how they use it;
§  They post fun, interactive messages in relation to pizzas and high quality photographs of their dishes and drinks.
§  They upload pictures containing simple questions and puzzles to get fans to engage and interact.
Jetwing Hotels  (instagram.com/jetwinghotels)
The leading hotel chain and travel company has 317 followers on Instagram. Some of the posts include:
§  Depictions of the various amenities in the Jetwing Hotels (Eg: Spa, Food, Bar etc.)
§  The attractions and sights around the hotel
§  Cultural and festival occasions that take place in the hotel (Eg: Awurudu festivals, Weddings etc.)
§  Details of competitions/contests conducted by them
Cinnamon Hotels (instagram.com/cinnamonhotels)
Cinnamon Hotels also has 321 followers on Instagram. Their posts are quite similar to those of Jetwing, and include:
§  Various aspects of the landscapes of their various hotels
§  Pictures of the various services offered by the hotels (Eg: cocktails, casino, shopping centres, diving etc.)
§  Events taking place in the close vicinity of the hotels
§  Things to see around the hotels (e.g., Wildlife, sites of cultural heritage)
§  Competitions and contests conducted by Cinnamon group
Walkers Tours Sri Lanka (instagram.com/walkerstours)
The travel and logistics company Walkers Tours has 155 followers on its Instagram page. The company Instagrams pictures of:
§  The vehicles and other modes of transport they offer  – Buses, Vans, Ships
§  Featured hotels and their landscapes
§  Some of the special moments experienced by tourists that take their tours
 The images are hash tagged with their brand name, and the descriptions contain their email addresses and website URLs
BQu Services can help you set up Instagram and post to it regularly. To enquire, write to us atThis email address is being protected from spambots. You need JavaScript enabled to view it. or call us on 0773 – 22 44 20
Created: September 19th, 2014