Sri Lankan brands you should follow on social media
Social media marketing is without a doubt one of the most powerful ways to promote your brand and create long-lasting relationships with your customers.
Big brands all over the world rely massively on social media in addition to traditional media to communicate with their audience.
McDonald's, Starbucks, Coca Cola, Nike are few among the most influential and engaged brands on social media globally. Taking a look closer to home, Sri Lankan brands have also started to identify the immense potential social media marketing offers, and have started taking advantage of the latter. Unlike the global scenario, Sri Lankan brands mainly focus of Facebook, with Dilmah Tea topping the ranks with 1,324,270 fans, followed by Mobitel with 777,831 fans and Dialog with 499,427 fans. Twitter, Youtube, and Instagram are also used for campaigns, although these platforms are still in their initial stages in the Sri Lankan market. We at BQu Services have listed below, four brands that you should follow on social media for the great use of content and value they provide for the followers.
1.  Embark Sri Lanka (@EmbarkLK)
Embark is a nonprofit organisation that strives to make a difference in the lives of street dogs and their admirable work undoubtedly makes a big difference. The brand's Facebook page has 66,888 likes, and the Twitter page has 2,692 followers. The content they share is truly uplifting. If you are looking to restore your faith in humanity, then this is a must-follow page. The brand mixes up their content with emotional posts, quotes, pictures, tips on how to take care of your four-legged friend, updates on their work progress and witty posts. They keep their content localised by mixing in posts in Sinhala as well. The Facebook page also features apps, including Youtube videos, an adopt album and a donate section. The overall tone of the page is quite happy and upbeat which most certainly suits the positivity they bring in with their work.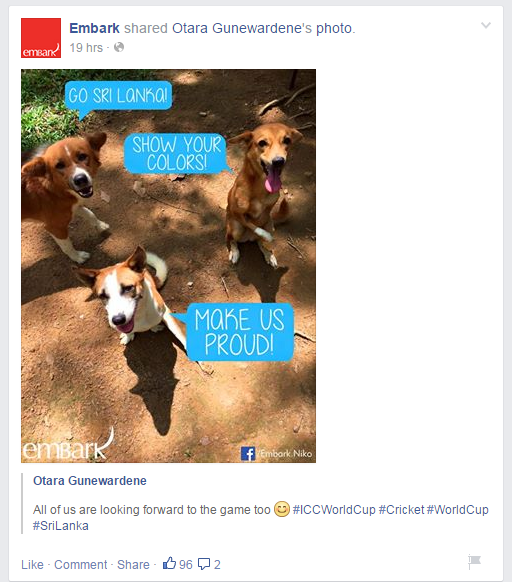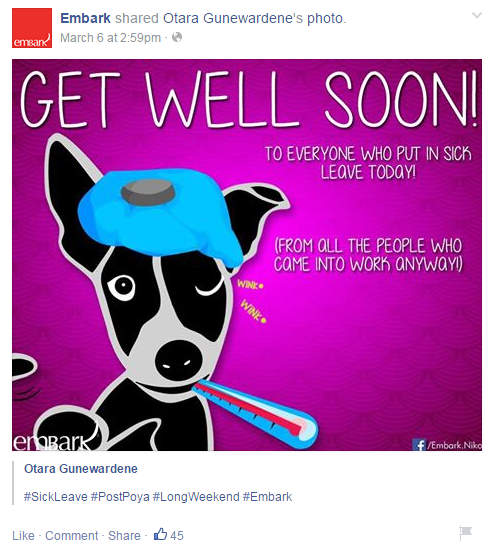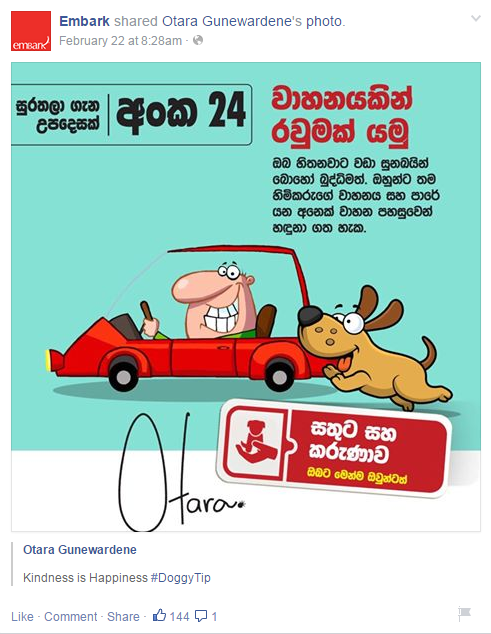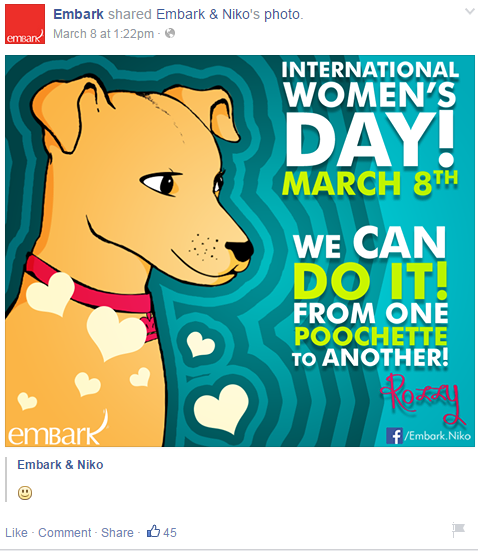 2. Manhattan Fish Market Sri Lanka (@mfmsrilanka)
MFM is a franchised restaurant specialising in seafood, and the brand has 68,466 likes on Facebook and 413 Instagram followers. The MFM Facebook page has a variety of content from posts related to current events, deals and offers, and humorous posts. The page also manages to keep the engagement going by posting quizzes and games and replying to comments posted by fans. The page's app section includes latest deals, TripAdvisor Reviews, the menu, and Instagram. The MFM Instagram account is filled with beautiful and mouthwatering pictures. Warning! If you are hungry, looking at these pictures will only make it worse!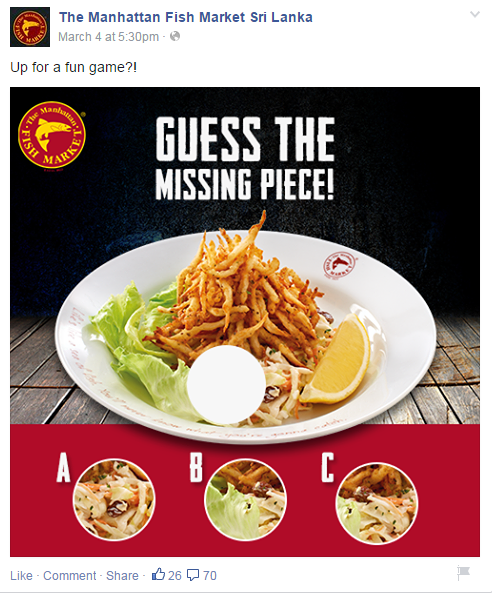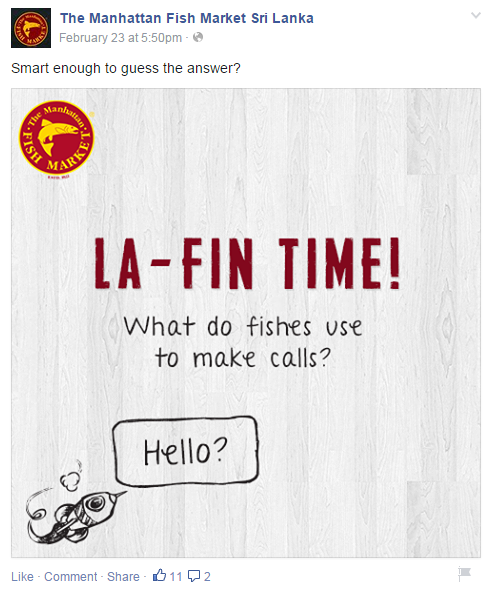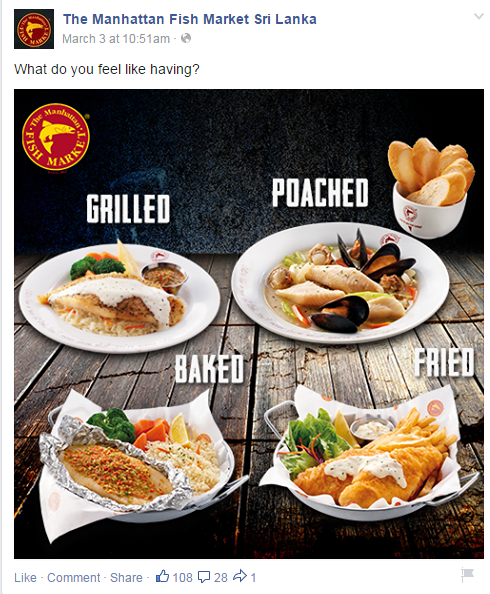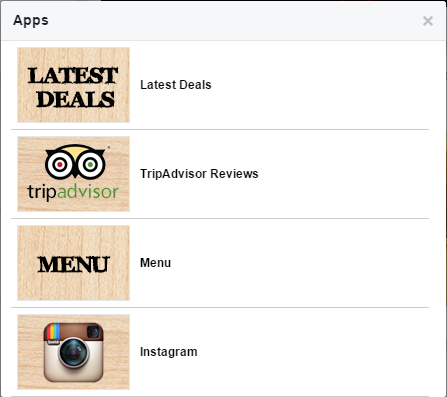 3. I am Sri Lanka (instagram.com/iamsrilanka)
IamSriLanka is a licensed tailor-made holiday operator that cleverly uses Instagram as their main social media marketing platform. The page has 10,000 followers and 1,114 posts including breathtaking sceneries, gorgeous hotels, and other various tourists destinations as well as quotes. The page also includes short videos capturing either a fantastic location or activities from all over the island. By going through the posts, one can get an almost first-hand feeling of what it would be like to visit the paradise island, and the testimonials from past visitors only add more credibility to the beautiful pictures and videos.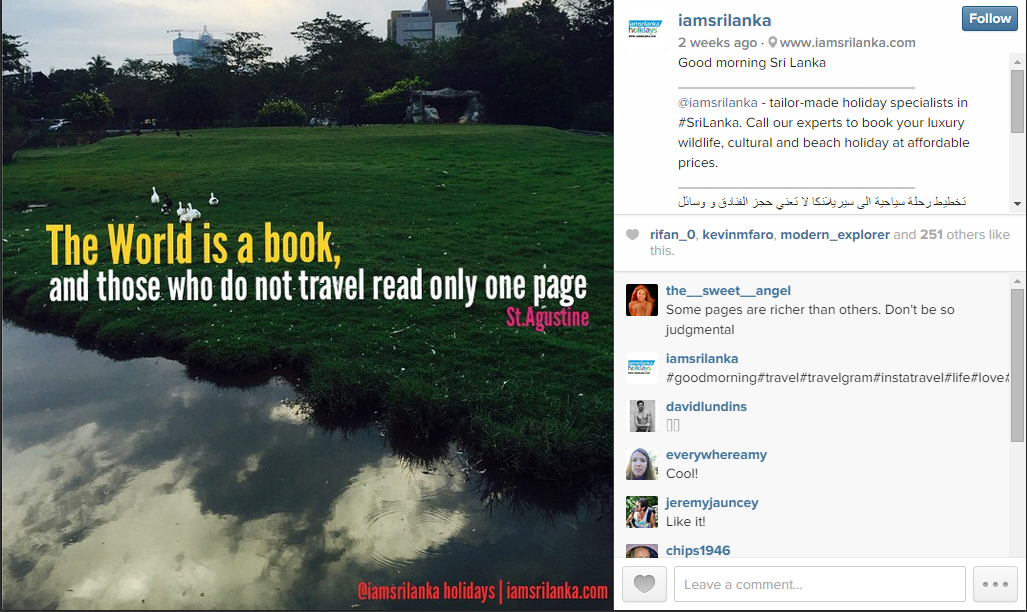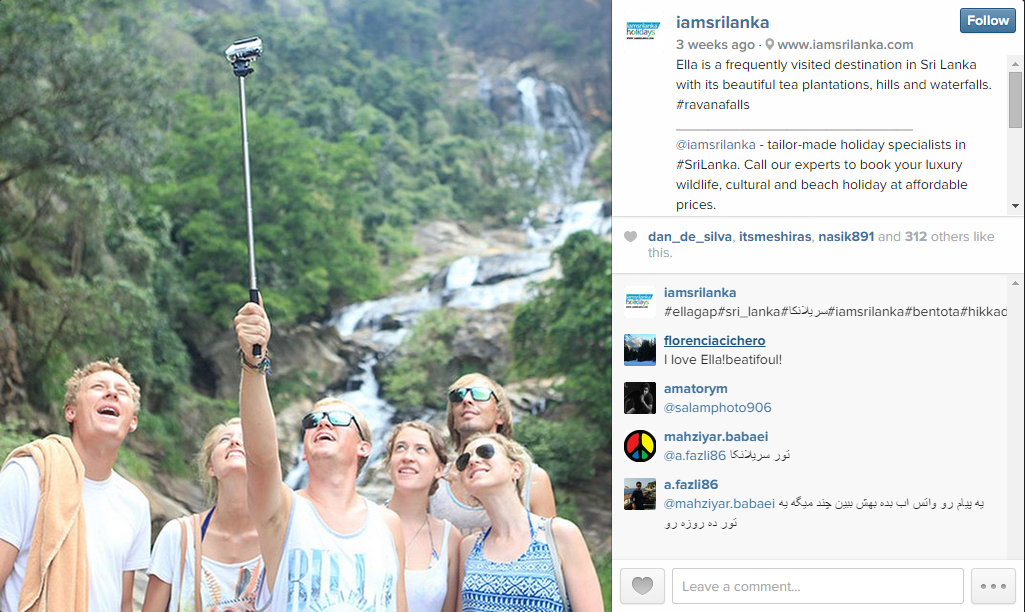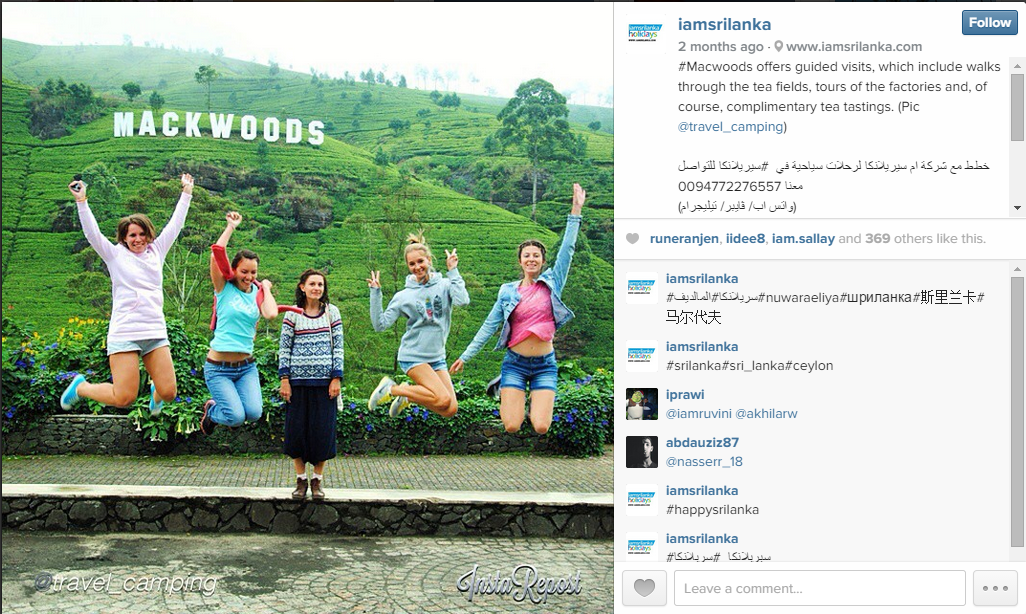 4. Cioconat (@cioconatsl)
Cioconat is a franchised multi-cuisine restaurant / coffee shop with 37,160 fans, 1154 followers on Twitter, and 1,184 followers on Instagram. The brand's Facebook page has a wide variety of content, ranging from current events, promotions, and quotes. The overall tone of the page is quite friendly and upbeat. The page has made great use of the apps section which includes the menu, TripAdvisor Reviews, Pinterest, Instagram, Inquiries, Vacancies, Youtube, an option to sign up for their newsletter, and an app called Top Fans. Their Instagram account has fantastic shots of their products, promotions, and images with food related quotes. If you are a foodie just like us, then this is a brand you should be following on social media.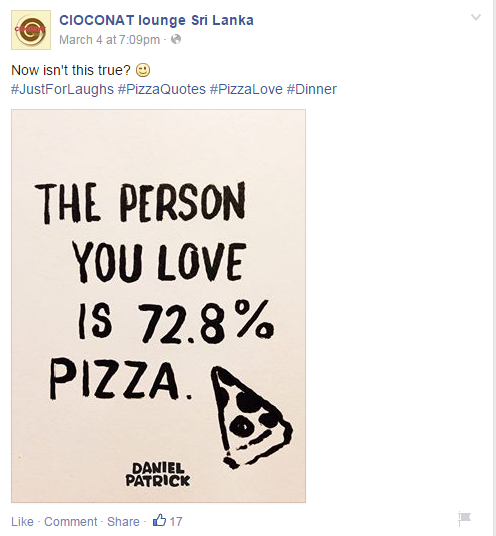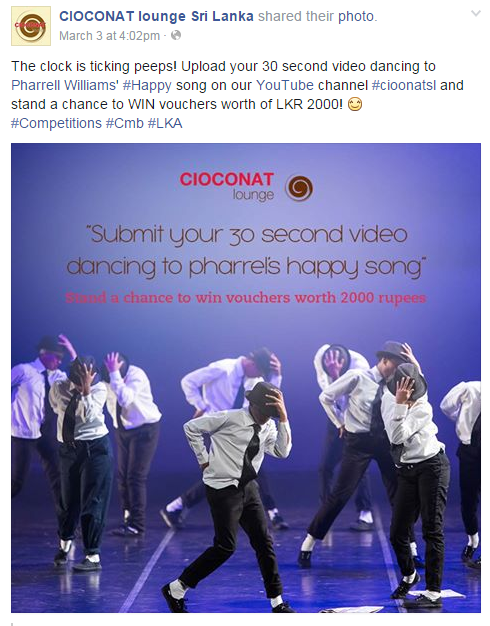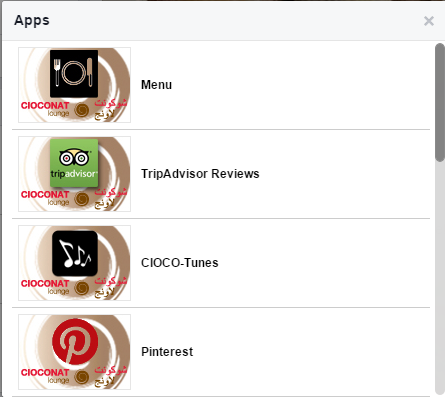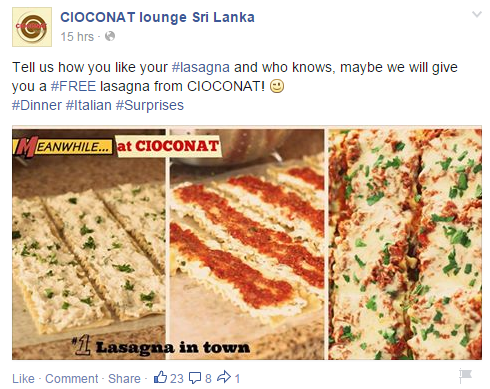 Created: March 12th, 2015