Best Christmas marketing campaigns of 2016
Every year, we witness holiday marketing campaigns popping up everywhere during Christmas holidays. With countless number of businesses rushing to cash in on a spending frenzy, we see holiday emails, social media posts and TV ads - and the list goes on!!
Sometimes it feels like holiday marketing is out of control. But some brands do it exceptionally well. How? Well, these brands create campaigns that actually delight customers instead of adding to holiday "noise." They evoke emotions and promote sharing, sometimes even connecting people with their loved ones or partnering with a charitable organisation. 
Great holiday marketing campaigns come in many different shapes and sizes. Check out 10 of our favourite picks below:
1. John Lewis: #BusterTheBoxer
The UK department store just dropped their much-anticipated follow-up to the Cannes Lion-winning "Monty's Christmas," and it's already gained over 17 million views on YouTube since its release on November 9th.
Produced by adam&eveDDB, the ad begins with a dad setting up a trampoline on Christmas Eve for his daughter. Watch how the rest of the story unfolds from below:
John Lewis didn't stop at a TV commercial for its holiday marketing. They even turned it into a promotional hashtag. They dedicated an entire section of its online shop to Buster and his friends, the brand created an interactive experience.
Shoppers visiting the fourth floor of John Lewis' flagship store in London will be able to wear an Oculus Rift headset and bounce along with the animals from the ad. Wearers will be able to trigger the animals' jumps by waving their arms, likely made possible through the Oculus Rift's controllers. There is also a less high-tech version available with Google Cardboard and a 360-degree video experience viewable on YouTube. 
Check out the youtube video from below. It provides a 360° user experience to explore Buster's garden, where the very trampoline being promoted in the original ad was installed.
This is a clever way of using  360° videos and real-life moments to communicate with target audiences. We're anticipating to see more of these in marketing communications this season, and beyond.
2. Boots Christmas campaign: The gift of beauty
The retailer put on a treat for real women who work on Christmas Day in an attempt to show how beauty products make thoughtful gifts.
Boots invited 45 women, among them paramedic Lois Flood and firefighter Lucy Masoud, to a day of pampering. The 60-second ad shows them being given makeovers by Boots' beauty advisors and finishing their day with a spectacular reveal to delighted friends and family. 
"The gift of beauty" was created by Mother, directed by Gary Freedman and produced by Independent.  
Helen Jeremiah, director of customer strategy and communications at Boots UK, said: "We know women love receiving beauty gifts at Christmas. They are gifts that make her feel truly special. We wanted to give that gift to some inspiring women who spend their time – even on Christmas day – helping others. For all that they do for their communities we wanted to give them an early Christmas gift."
The ad aired for the first time at 7.30pm on the 09th November during Coronation Street on ITV1. Lois, Lucy and Simone Williams, a nurse, also feature in a national print campaign.
Adding a human touch and humanising the brand is what makes Boots' campaign this year stands out from the rest during this season.
3. Heathrow Airport: Coming Home for Christmas
If you're in need of some warm and fuzzy feelings this holiday season, look no further than this pair of traveling teddy bears. Havas London produced this Heathrow Airport ad, which follows a couple of elderly teddies as they traverse the terminals of the massive British airport, from landing to baggage claim.
When the bears finally meet their family at the arrivals area, they're magically transformed into real human grandparents. The biggest miracle though is making a journey through the airport look like a whimsical adventure. 
We loved the film -  the bears' journey through the airport managed to capture the excitement you feel when walking through Heathrow arrivals into the arms of your loved ones at Christmas. And we feel that the airport was successful with evoking the same feelings with their audiences.
4. House of Fraser: Christmas is coming for you
House of Fraser has aimed for a subversive twist in its Christmas campaign, which launched on 04th November with the tagline "Christmas is coming for you".
Created by 18 Feet & Rising, the ad is a fast-paced affair with dancers dressed in stylish attire against the soundtrack of Laura Mvula's cover of the Delfonics' classic track "Ready or Not".
Similar to last year's Christmas campaign "Your Christmas, your rules", the ad appears to be a cross between a music video and a fashion shoot.
House of Fraser has also created a 98-page glossy magazine to complement the ad, with in their stores soon after its release, featuring the lead dancer of the TV advert on its cover. 
This short music video stands out from many others as they have managed to capture the anticipation of the season and the overwhelming excitement it brings when it finally arrives. The contemporary and energetic style have become synonymous with House of Fraser brand.
5. HotelTonight: Visit, Don't Stay
During the holidays, time with family is inevitable - whether you like it or not.
But HotelTonight has a plan to help, by making it easy for holiday travelers to visit family without staying with them. The solution? An easy-to-book hotel room, using the brand's website.
The campaign is widespread across social media. First, there's a Facebook contest, in which followers can share a story of their worst/funniest holiday family memory in the comments.

Then, followers on Twitter are invited to participate in the conversation, using the #HotelTonight hashtag.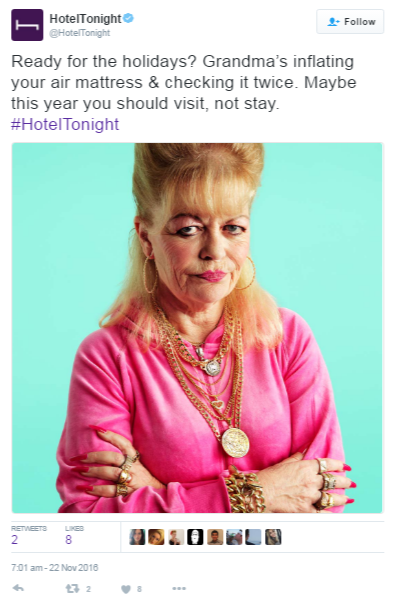 The campaign also uses quirky, chuckle-worthy print and audio ads, like the one below that invokes nostalgia of our own wacky relatives.
This multifaceted campaign has taken a single idea - that we aren't crazy about some of our relatives, but can't be rude about it - and executed the very same message across a variety of platforms in the most creative way.
6. Temptations: Keep them busy
In this clever ad for a brand of cat treats, agency adam&eveDDB created the perfect holiday wonderland. Complete with sparkling trees, a Christmas roast, and even an electric train set. Then they invited 22 cats to rip it all to shreds in spectacular fashion.
"The internet is full of cats being cute and fluffy, but in reality cats are incredibly mischievous." client marketing director Denise Truelove said to AdWeek. "That tension led to something quite fun in this Temptations holiday video and campaign." 
Unsurprisingly, the cat actors weren't super easy to work with. It took three weeks for handlers to train the feline hoard for their dramatic entrance and exit, and three days to collect shots of them gleefully destroying the set. 
The ad is cleverly designed to gently push the Temptations brand through the cat lovers' mind using emotional appeal and creativity.
7. Hinge: See What We're Thankful For
This holiday season, what are you thankful for? Back in November, dating app Hinge sent around an email posing the same question to its members, using the opportunity to talk about its recent rebrand and subsequent growth - something for which Hinge itself has enormous gratitude, according to the email.
The timing for this sort of marketing is impeccable. The holidays are notorious for the sentimentality they invoke among the masses, and the desire to spend them with "someone special." (In fact, ads that capitalize on sentimentality have been shown to score 50% higher in emotional appeal, no matter what the season might be.) Check out the email from below.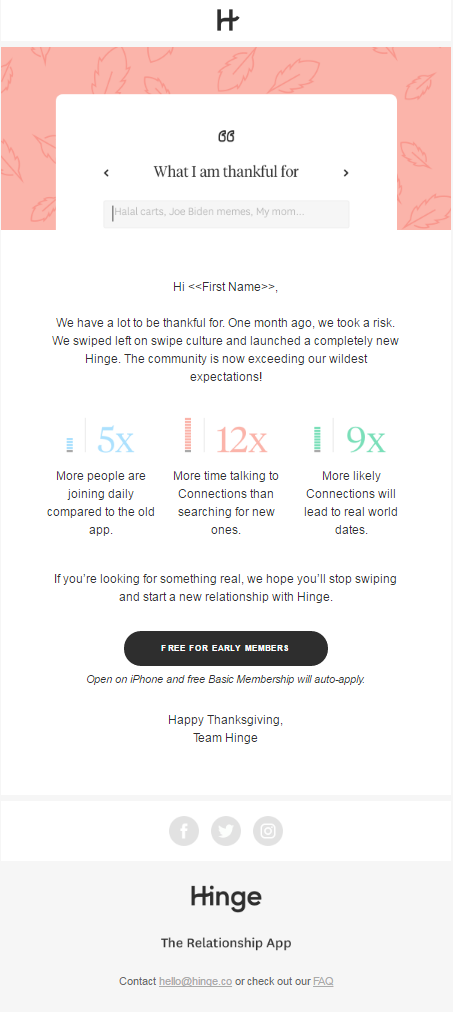 With this email it is inevitable that Hinge was able to harness the holiday spirit and redirect attention to an app that helps people find meaningful relationships, instead of, well, shorter-term alternatives. 
8. Dollar Shave Club: Holiday Shave Set
Sometimes, we enjoy some good, snarky marketing. Maybe that's why we can't stop giggling at this video promoting Dollar Shave Club's Holiday Shave Set: the gift that other gifts can't handle.
It's a great example of a simple, funny and short video on social media. This snowman on a sweater was too jealous to handle the awesomeness of the Holiday Shave Set -hence, the hair dryer.  
It's fascinating to see how a brand can incorporate the familiarity of cheesy holiday traditions like wearing ugly sweaters into their own marketing, while simultaneously demonstrating how their products or services can spice up the standard holiday monotony.
9.  Samsung Galaxy: Unwrap The Feels  
Samsung has had a bit of a tumultuous year. But now, the brand is seeking to bring some holiday cheer to the masses with the gift of its Gear VR.
We've anticipated that virtual reality would become an increasingly important marketing device, especially when it comes to brands creating an experience for consumers. With technology from products like Gear VR, people can create their own experiences from the comfort of their own homes.
Samsung is building on that for the holidays with this video that shows relatives gifting their loved ones with the freedom to experience anything -- and the feelings that come with it. Watch as the different recipients show a broad range of reactions, from elation, to shock, to wonder. 
Samsung also incorporated a social media sweepstakes into the campaign. For a chance to win a Galaxy S7 Edge and a Gear VR, Twitter users were invited to tag a friend with the hashtags #GalaxyS7edge, #GearVR, and #sweepstakes, along with a few words on why that person deserved the gift of virtual reality.
This ad seems to be a major comeback from the turbulent times that the brand has to experience with claims of Galaxy Note7 explosions during early this year. However we see this advert as an effective initiative to win back their customers and their trust.
10. Alzheimer's Research UK : Santa Forgot 
On the 16th November 2016 Alzheimer's Research UK, launched Santa Forgot, a disruptive and beautiful animation that imagines a world where the magic of Christmas has been lost because Santa is living with the effects of dementia and no longer visits children across the world on Christmas Eve.
The attention-grabbing concept highlights the varied symptoms and social isolation of dementia and raises awareness that the diseases that cause it, most commonly Alzheimer's, strike indiscriminately and really can affect anyone, even Santa.
It is adorable and at the same time impressive how Alzheimer's Research UK uses fictional characters: Freya and Santa's elves to showcase that only with world leading research, new approaches and innovative thinking can the diseases which cause dementia be defeated.
All in all, out of everything that we like about Christmas marketing campaigns this year, we love on thing the most - the fact that they put the fun back in holidays. We hope you enjoyed them like we did. 
Created: December 21st 2016.