Travel survey series by BQu Services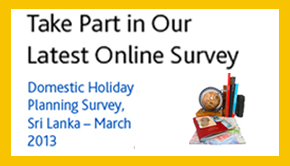 Online surveys are very useful tools in the recognition and addressing of consumer preferences, and have several accompanying benefits, such as
being cost-effective, quick, appealing to respondents, providing convenience in analysis of results and they can also be circulated at very low costs to a very large number of potential respondents through the.
BQu Services is currently engaged in introducing a series of free online surveys performed as primary research on the Sri Lankan market, to explore Sri Lankans' consumption preferences in different sectors. Through conducting these surveys, they hope to showcase their online survey conduction capability, which is not a very common mode of research adopted by Sri Lankan businesses.
BQu Services has realized that Sri Lanka is currently experiencing a lack in the area of primary data and information about local consumer preferences, and statistics aren't regularly updated. As a result, most often businesses will refer to global research reports to build a conclusion about consumers and business behaviour, which may not always be true and applicable to Sri Lanka.
BQu Services hopes to encourage businesses to survey their target markets to get more insight and understanding, which will enable them to build better targeted and effective strategies, leading to greater growth and sustenance.
As their first survey, BQu Services surveys the travel and tourism industry, specifically the domestic travel sector of Sri Lanka. They aim to explore the attitudes and usage of Sri Lankans towards online booking, to book their vacations in Sri Lanka.
Created : March 21st, 2013