Why Email marketing is the best driver of your ROI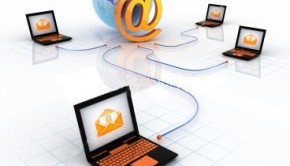 The role played by email in any businesses online marketing mix is vital.
It is seen to be increasingly popular and effective in targeting prospects, creating leads and building and retaining customer relationships. It is also a promising medium in Sri Lanka, considering the fact that there are over 2 million email accounts in Sri Lanka, which is nearly 10% of the Sri Lankan population.
ROI refers to the "Return on Investment" of your marketing endeavour. Most marketers are not keen in calculating the ROI of their online marketing activities, as they are about their offline marketing activities. Although newer ways of performing online and digital marketing are ever emerging, email still remains the driver of the greatest ROI, owing to its very high cost-effective nature and the results it could potentially yield.
Some of the stats of email usage in Sri Lanka
These stats were gathered from two primary sources – Internet World Statistics and Telecommunications Regulatory Commission of Sri Lanka.
According to the following figures it could be argued that there is more than 400,000 emails if you take into consideration the number of email accounts, but with the amount of Facebook subscriber on average this value could be more than 950,000.
Total Population 2012

21,481,334

Internet Users – June 2012

3,222,200

Number of Cellular Mobile Subscribers

20,324,070

 
 

% Of Sri Lankan population

% of Internet users

Internet & Email Subscribers – Fixed

423,194

2%

13%

Internet & Email Subscribers  (Mobile)

942,461

4%

29%

Number of Facebook Subscribers

1,515,720

7%

47%
Current bulk email providers in Sri Lanka will offer in common the following packages, again this will help us to argue the current number of emails actively being used by Sri Lankans is on average over 400,000.
Bronze – 100,000
Silver – 175,000 – 200,000
Gold – 250,000 – 300,000
Platinum –  400,000 – 450,000
How is ROI calculated in email?
As such, it is important to assess the outcome of online marketing activities, in relation to the investment made.
An email campaign conducted by BQu Services through a Sri Lankan bulk-mailing provider was sent to over 130,000 contacts, yielding a 36% open rate with a click rate of 0.42%. There was one lead generated through this emailing.
Furthermore when using our targeted email list of about 900 personalised emails, from our internal emailing tool we received an open rate of 20%, with a click through of 13%, generating 3 leads out of which one went on to be a client.
Some key points that can therefore help to determine return on investment will include how many leads, customers; sales were generated through each campaign.
Here are 5 reasons why email marketing can drive your ROI
§  Email marketing is one tool that can be used by almost any business, due to the great capacity of customization and targeting it offers. The layout, messages, subject lines could all be customized according to the industry, business or even specifically the customer.
§  Another significant advantage of an email campaign, in comparison to a social media campaign, is that most email marketing tools allow free-testing of the email. It is also possible to do sample send-outs to small groups and obtain an idea about what sort of results you may obtain, before sending the email out to your entire list. This can also give valuable insight into choices of subject line, content etc.
§  Email marketing facilitates relationship marketing to a great extent. Many Sri Lankan organisations currently use email marketing to build and maintain relationships with its clients and prospects. Organisations use auto-scheduled emails to wish clients for their birthdays, anniversaries, and in general, to keep them updated about products, services and organisation updates.
§  Email marketing is extremely helpful in brand building. Companies are seen to customize emails to convey the colours, themes, logos they use in their other forms of communication. Thus, apart from conveying your message; emails also help in brand communication and awareness, so readers will recall your branding when they see another email from you. To add to this, most email marketing tools can be collaborated with social media as well, to further improve branding. This too is a great window for businesses considering Sri Lanka now has over 1.5 million Facebook subscribers, which is 7% of Sri Lanka's population.
§  Email marketing is also a permission-based form of communication. This means that email marketing is not a forced form of communication. A 2012 survey of consumer channel habits and preferences found 77% preferred to receive permission-based promotions via email. Forced messages do not strike as important to the customer. Moreover, most emails allow readers to unsubscribe if they do not wish to receive emails further. In Sri Lanka, email marketing providers have observed an unsubscribe percentage between 0.02% -0.1%.  This makes email marketing a form of communication that can be practised completely ethically.
Contact BQu Services to create and deploy a quality email marketing campaign.
Created : May 15th, 2013